Topic: Failure IS Just Feedback
On today's podcast Annemarie shares her insights on how failure does NOT define us.
Annemarie today says, "Failure does NOT define you. Failure IS just feedback and data you can leverage to move forward".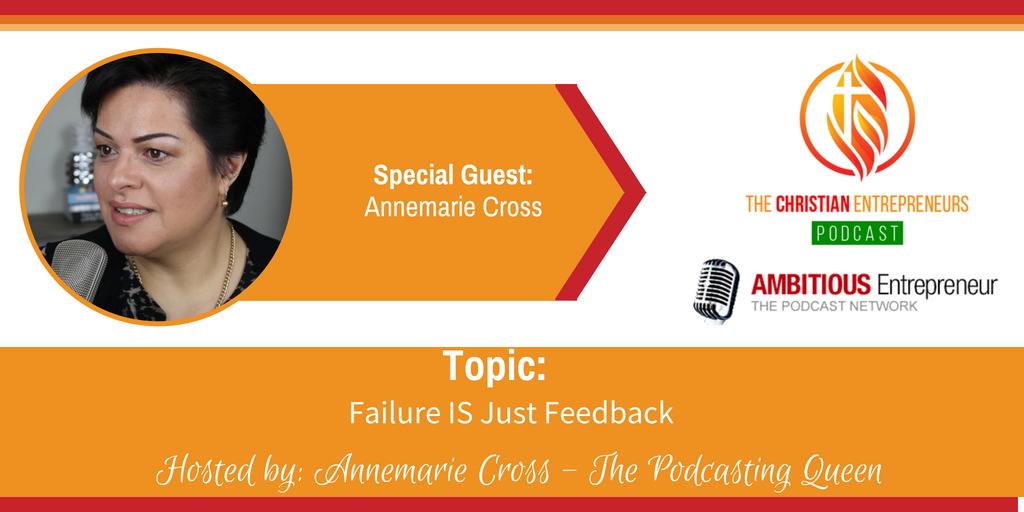 Rather, feedback IS just feedback and data that we can leverage moving forward.
Message me on Facebook or come on over and join our www.BetheDifferenceMovement.com Group.
LISTEN NOW:
Podcast (the-christian-entrepreneurs-podcast): Play in new window | Download (Duration: 8:14 — 8.1MB) | Embed
Subscribe: Apple Podcasts | Google Podcasts | Android | Email | RSS
About Annemarie Cross:
Annemarie Cross is a Brand & Communication Strategist and started her first podcast in 2008 to be the voice of inspiration and hope amongst the deluge of 'doom and gloom' stories being portrayed across all traditional media channels after the Global Financial Crisis devastated families worldwide.
Ten years on, now dubbed "The Podcasting Queen" by her guests, clients and colleagues, Annemarie continues to be the voice of inspiration in her own award-winning business- and leadership-focused podcasts, and the podcasts she hosts and produces for her clients through her media company – the Ambitious Entrepreneur Podcast Network.
Contact:
Want to start your own podcast – but don't know where to start? Access our free Minitraining: