Topic: Never Dim Your Light
On today's podcast Annemarie shares a special message for #ChangeMakers
If you're constantly sharing valuable information; starting conversations that compels a different way of thinking; and if your contributions empowers people into action, then:
– NEVER hesitate to share HOW people can get further help with the services/products you offer;
– NEVER be shy about having your books, banners, etc in the background when you're speaking, interviewing or being interviewed n a podcast;
– Or whatever feels right to help people release there IS a solution and YOU can support them. Like if you hear someone speaking about their struggles you can say "You know, I totally understand where you're coming from. In actual fact, this is exactly what I help my clients with and I'd be more than happy to have a chat to see how I could support you."
We can often feel awkward about sharing that 'next step.'
Like one of my #podcast guests, yesterday.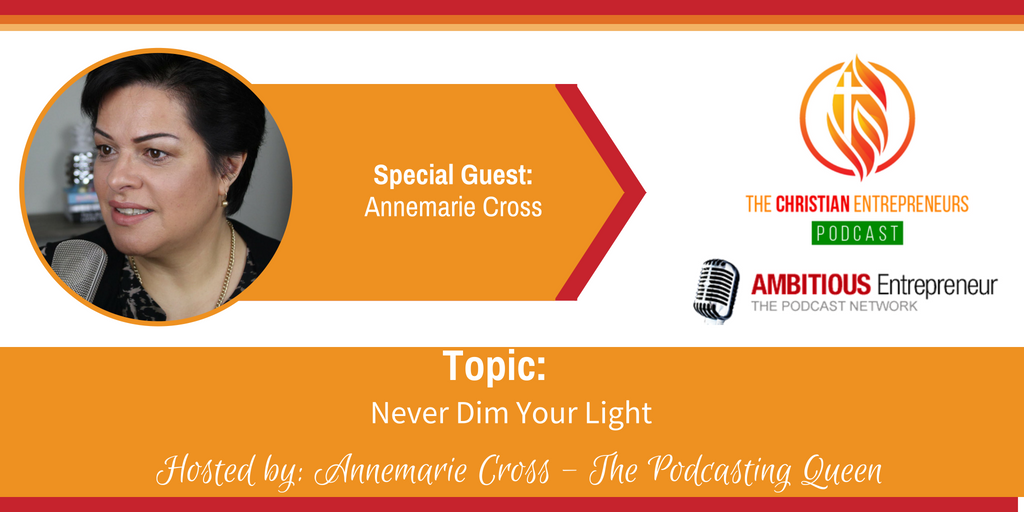 I asked him to share his link twice. After the show he thanked me for reminding him as so often he would forget and his PR agent would pick him up on it.
And, what if people respond negatively?
Remember, it's NOT a reflection on you or what you're doing.
BUT, says EVERYTHING about where they're at in their own journey.
Own your brilliance, confidently.
Dimming your light because of someone's else's reaction is NOT an option.
You have work to do!
So, continue to share your message AND how people can work with you.
Because someone, somewhere is waiting for YOUR support.
I think that so often as Christians we can avoid doing this as we don't want to seem salesy or pushy.
However, if you are sharing this information from a place of integrity and desire to help others, then why would you not share with people how you can help them.
That's my thoughts for today.
Do you agree? Let me know. Connect with me on Linkedin – Annemarie Cross or on Instagram AnnemarieCoach and message me your thoughts.
Have you gotten more comfortable in being able to share your "next step' or to have your banner in the background while you are speaking, or your book on the table, so people are aware of what you do. Do you mention what the next step if you are being interviewed on a podcast.
Never be hesitant to share you message, because
You have work to do!
So, continue to share your message AND how people can work with you.
Because someone, somewhere is waiting for YOUR support.
Let me know your thoughts over on Linkedin or Instagram
Looking forward to hearing your thoughts.
Message me on Facebook or come on over and join our www.BetheDifferenceMovement.com Group.
LISTEN NOW:
About Annemarie Cross:
Annemarie Cross is a Brand & Communication Strategist and started her first podcast in 2008 to be the voice of inspiration and hope amongst the deluge of 'doom and gloom' stories being portrayed across all traditional media channels after the Global Financial Crisis devastated families worldwide.
Ten years on, now dubbed "The Podcasting Queen" by her guests, clients and colleagues, Annemarie continues to be the voice of inspiration in her own award-winning business- and leadership-focused podcasts, and the podcasts she hosts and produces for her clients through her media company – the Ambitious Entrepreneur Podcast Network.
Contact:
Want to start your own podcast – but don't know where to start? Access our free Minitraining: