Topic: Best Practice Benchmarks for SMEs
Welcome to SMART Connect Podcast Episode 17 where you'll hear from business specialists and advisors on Best Practice Benchmarks to help you build a profitable SME. I'm your host Annemarie Cross.
Joining me today is Brenda Thomson – CEO of SMART Connect Alliance – the leading authority on the benchmarks of business best practice for fast growing, profitable SMEs.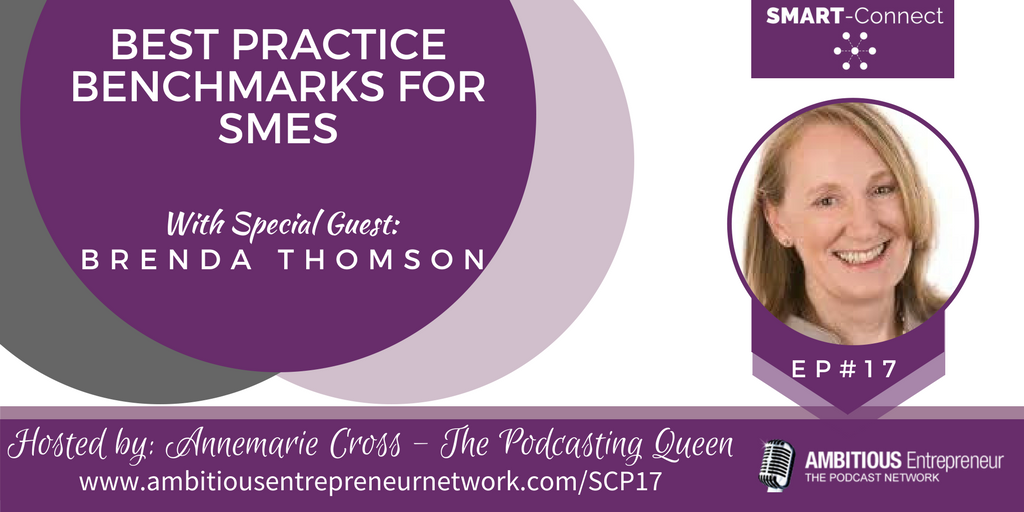 On today's show Brenda is going to speak about:
What is Best Practice Benchmarking and how is it different from the statistical kind of benchmarking we are more familiar with?
What the benefits are of best practice benchmarking?
Why SMEs struggle to implement best practice benchmarks?
The SMART-Connect Benchmarking Tool.
Podcast (smart-connect-podcast): Play in new window | Download (Duration: 26:36 — 24.8MB) | Embed
Subscribe: Apple Podcasts | Google Podcasts | Android | Stitcher | Email | RSS
SUBSCRIBE HERE on iTunes and Stitcher
Connect With SMART Connect Alliance: