Nellie Akalp is a small business start-up expert, and shares her tips, strategies and experiences through some very impressive places including Mashable, AMEX Open Forum, and the Business Insider to name a few.
In 2012 she was named among the "Top 100 Small Business Influencers" by Small Business Trends and has been on KTLA and Fox Small Business Center discussing small business related issues.
Throughout her career, Nellie has formed over 100,000 Corporations and LLCs so has extensive expertise and information to share when it comes to starting, protecting and managing a business.
Nellie herself is a serial entrepreneur who started her first company in 1997, which she sold to Inuit in 2005. Her current company, Corpnet.com is 100% self funded and on today's show she is going to share:
How she started her current company CorpNet.com and despite being in a busy marketplace what she does to keep the business thriving
Key tips and strategies you need to know to start a business and just how easy and inexpensive it can be
How to protect your business, especially the legal side of business and business structures
and much more!
Links and further resources we spoke about in the podcast today
Today's Inspirational Tip – it's a Tweetable!
"Been putting something off that's blocking your business's growth? Commit to taking action on it THIS week. @AnnemarieCoach" Tweet This
Enjoy the show!
As always, thank you for being part of our community and listening to this podcast. To ensure you don't miss out on learning about the latest tips and strategies to help you build your successful business, go ahead and subscribe to the podcast by clicking on the link below.
And, while you're there, please leave your rating and review of our podcast show on iTunes. THANK YOU!
Click here to Subscribe & Keep Up To Date via iTunes and leave a review!
Now, let me introduce you to our special guest –Nellie Akalp and her company – CorpNet.com
Nellie Akalp is a passionate entrepreneur, small business advocate, mother of four and the CEO ofwww.CorpNet.com
CorpNet.cpm is an online incorporation service that helps entrepreneurs get their business of the ground in a fast, reliable and affordable manner. Through its website, CorpNet.com provides business filing services required for a variety of business needs such as: forming a Corporation or Limited Liability Company (L.L.C), filing for a DBA, Doing Business in Multiple States (Foreign Qualifications), Closing a Business (Dissolutions), Registered Agent Representations, Trademark Search and Registration, and Corporate Compliance services and supplies for all 50 states.
Contact Nellie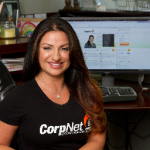 YOUR SAY:
What did you think about the message Nellie shared today? Have you considered incorporating your business, but haven't because you just don't know where to start? What 'aha' did you have? We'd love to hear from you!
Please leave your comment in the box below, and remember to share and Like the show with your colleagues. Also, stop on by our Facebook page to say hello and to give us a shout out on Twitter – we promise to shout back! As always, we appreciate it!
Podcast: Play in new window | Download (Duration: 27:02 — 24.8MB) | Embed
Subscribe: Apple Podcasts | Google Podcasts | Spotify | Android | Stitcher | Email | RSS | More