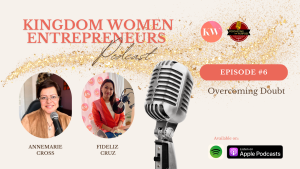 Welcome back to another empowering episode of the Kingdom Women Entrepreneurs Podcast!  We are thrilled to dive into a topic that resonates with all of us as entrepreneurs: overcoming doubt.
Doubt can creep in at any stage of our entrepreneurial journey, leaving us feeling discouraged and questioning our abilities. But fear not, dear listeners! Today we dive deep into the power of overcoming doubt. It's time to renew our minds, embrace our identities as children of God, and rise above the challenges that come our way. Remember, the key to unlocking our destinies as successful kingdom women entrepreneurs lies in trusting in the Lord and walking hand-in-hand with Him.
We explore personal stories, share powerful scriptures, and discuss how to navigate through disappointments and comparison.
Remember, it's okay to feel down and discouraged sometimes. Be honest with yourself and with God. He meets us where we are and loves us unconditionally. You are never alone!
Here's a sneak peek at what they discussed: 
Embracing disappointments and allowing God to shape your path
How the worst business setbacks lead to the best transformations
Finding strength, support, and faith amidst doubt and disappointment
🎯 Key Takeaways for Entrepreneurs: 
1️⃣ Renew Your Mind Daily: Begin each morning by renewing your mind and setting yourself up for success. Anchor yourself in the Word of the Lord, allowing it to be a filter against doubt and external influences. Remember, God's truth is greater than any doubt!
2️⃣ Embrace Your Unique Calling: Trust in God's plan for your life, even when it feels uncertain or different from what you expected. Recognize that your past experiences, failures, and talents all have a purpose in shaping your character for the next season. Align your goals with God's calling, and He will guide your path!
3️⃣ Seek God's Guidance: Instead of relying solely on your own understanding, approach God and seek His guidance in every aspect of your entrepreneurial journey. Develop a relationship with the Lord and be open to His calling for your life. Remember, He equips and empowers you, regardless of your qualifications or background! 
========================
We are excited to bring you another empowering episode of the Kingdom Women Entrepreneurs Podcast, titled "Overcoming Doubt."
In this episode, we dive deep into the topic of doubt and share valuable insights on how to overcome it. Each of us is fearfully and wonderfully made by God.  Despite the challenges and feelings of rejection and not being good enough, we are blessed and honored to be alive and loved by God. Psalms 139:13-14, reminds us that we are fearfully and wonderfully made. Take a moment to let that sink in and embrace the fact that you are a masterpiece created by God! 
God knows our doubts, struggles, and the depths of our hearts, even if we don't verbalize them. He looks beyond our actions and understands us like no one else can.  His plans are higher, and by developing our faith, we can see His miraculous hand at work in our lives.  Trust in His plan and remember that He is always with you. Faith is the bridge that connects us to His purpose!
Failure can crush our spirits, but it also teaches us valuable lessons. Sometimes, failure opens doors we never knew existed! Failure and disappointment are often necessary for growth.
To explore this episode further and join the conversation, we invite you to listen to the full episode on your favorite podcast platform. Don't forget to leave a review and share your key takeaways! We also encourage you to join the Kingdom Women Entrepreneurs Facebook group and follow our Instagram page for more uplifting content and a supportive community of like-minded women. Finally, if you have any scriptures or encouraging words about overcoming doubt that you'd like to share, please reply to this email or post them in the Facebook group. We would love to hear your insights and provide a platform for your voice to be heard.
I hope this thread has uplifted your spirits and given you food for thought! Remember, each day is a fresh start to renew your mind and trust in God's extraordinary plan for your life. Have faith in His timing and embrace the calling He has placed upon your life.
You are fearfully and wonderfully made! Stay blessed and inspired!
Connect with Fideliz Cruz and Annemarie Cross: