How to Increase Online Clicks & Conversions
What Makes People Click & Convert Masterclass with Sue Sutcliffe
Smart marketers understand that content marketing is a smart and economical way to create awareness, build credibility and ultimately profits, but if you're like most, you're frustrated by how difficult it is to get people to click and convert in this digital age.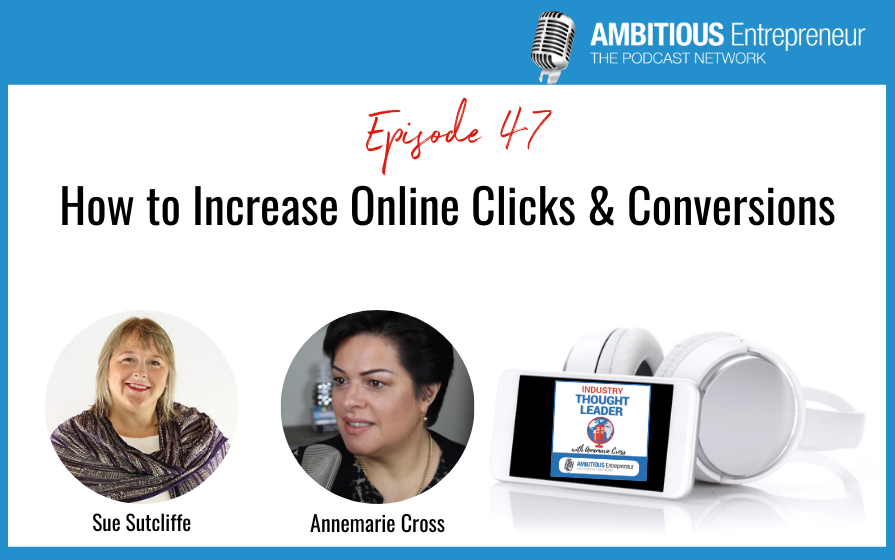 Join me on this Industry Thought Leader Podcast LIVE Masterclass with Sue Sutcliffe when she shares:
– How to get your content noticed by the right eyes
– How to discover content your ideal prospects will find valuable, and
– The key elements of an effective sales page
– Why your current content marketing plans are delivering mediocre results
– Three critical things you need to master to increase the number of times people click and convert, and
– What you need to do to increase conversion and ROI from your content marketing efforts
LISTEN NOW: 
About Annemarie Cross:
Dubbed "The Podcasting Queen," Annemarie is recognized as an industry pioneer, launching her first co-hosted podcast in 2008 to be the voice of inspiration and hope amongst the deluge of 'doom and gloom' after the GFC devastated families worldwide.
Over a decade on, she's the author of: Industry Thought Leader: How To Go from Invisible to Influential (and Profitable) with a Podcast and continues to be the voice of inspiration to a global audience through her award-winning podcasts.
Annemarie continues to live out her mission of 'Changing the World – ONE Message at a Time', with her own podcasts, as well as by supporting Professional Services Businesses (coaches and consultants) who are experts in their field (yet feel like they're the world's best kept secret) go from Invisible to Influential (and Profitable) with their own Thought Leader Podcast.
Click here to access Annemarie's Industry Thought Leader Podcast Series to help you go from Invisible to Influential (and Profitable) with a Podcast.