How to Build Influence with Clients and Key Stakeholders
Are you struggling to win buy-in from your prospective customers and even stakeholders? And, no matter how much content you're sharing or how many discovery sessions/catch up meetings you hold – they're just not turning into business or opportunities.
I get it! Which is why I ran this training with our community of Change Makers as part of our weekly Building Influence training calls.
And, on today's show I'm sharing it with you, because as an aspiring Thought Leader – you too need to be able to build influence – confidently and compellingly, so that the right opportunities that will be a win, win, win for all parties – DO come your way.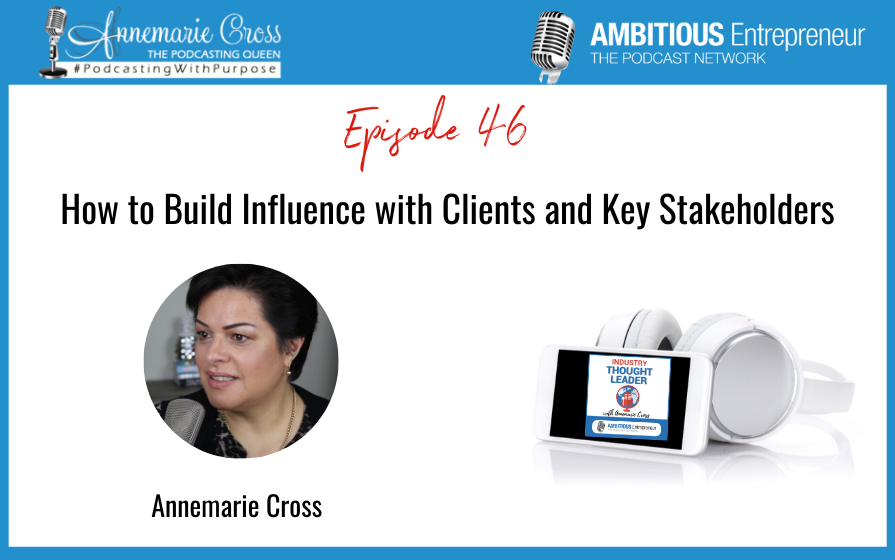 On the show today, I share:
What is Influence (and how are YOU currently influencing others)
Why Build Influence (and the opportunities you COULD be leaving on the table)
HOW to build Influence; key questions and steps you should follow
LISTEN NOW: 
About Annemarie Cross:
Dubbed "The Podcasting Queen," Annemarie is recognized as an industry pioneer, launching her first co-hosted podcast in 2008 to be the voice of inspiration and hope amongst the deluge of 'doom and gloom' after the GFC devastated families worldwide.
Over a decade on, she's the author of: Industry Thought Leader: How To Go from Invisible to Influential (and Profitable) with a Podcast and continues to be the voice of inspiration to a global audience through her award-winning podcasts.
Annemarie continues to live out her mission of 'Changing the World – ONE Message at a Time', with her own podcasts, as well as by supporting Professional Services Businesses (coaches and consultants) who are experts in their field (yet feel like they're the world's best kept secret) go from Invisible to Influential (and Profitable) with their own Thought Leader Podcast.
Click here to access Annemarie's Industry Thought Leader Podcast Series to help you go from Invisible to Influential (and Profitable) with a Podcast.