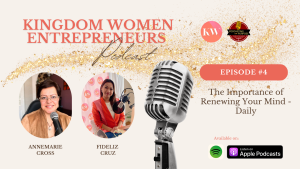 Welcome to another inspiring episode of the Kingdom Women Entrepreneurs Podcast!
As believers, we are called to align our thoughts with the truth of God's Word and reject any lies or innuendos that go against what He has said.
In this episode, we dive deep into the power of renewing our minds and how it can positively impact every aspect of our lives. Renewing the mind is not just a one-time event, but a daily practice that helps us gain clarity, understanding, and certainty. It becomes the foundation for discovering and pursuing our purpose, which lies at the intersection of our passions and the things that burden our hearts.
We discuss the concept of desensitization and remind us of the importance of being intentional about what we expose ourselves to. Use our unique gifts and talents to speak up and make a difference in the world around us. We also touch on current events and how renewing our minds helps us discern right from wrong.
Get ready to be inspired, empowered, and encouraged to renew your mind daily on this enlightening episode of the Kingdom Women Entrepreneurs Podcast!
Here's a sneak peek at what they discussed: 
Why renewing your mind is important.
What can you do to renew your mind daily?

How has it helped you?

 
🎯 Key Takeaways for Entrepreneurs: 
1️⃣ Desensitization and Speaking Up: We discuss how desensitization can occur when we are exposed to certain things regularly. However, as Kingdom Women Entrepreneurs, we have the ability to speak up against injustice and use our gifts and talents to make a difference.
2️⃣ The Power of Renewing the Mind: Renewing our minds helps us gain a clearer understanding and certainty of our purpose. By going back to scripture, listening to God's voice, and declaring His words as true and powerful, we can overcome fear, demolish arguments that go against His knowledge, and walk confidently in our calling.
3️⃣ Clarity and Confirmation: The episode includes personal testimonies that highlight the incredible impact of renewing our minds. By seeking clarity from God and renewing our minds daily, we open ourselves up to His will and receive confirmation in our actions. It's a reminder that even in times of doubt and frustration, with God, all things are possible!
========================
This episode is packed with powerful insights, practical tips, and a reminder that perfect love overcomes fear. We encourage you to tune in and let the words spoken ignite a renewed passion and boldness within you.  Dive into the scriptures, seek wisdom from knowledgeable individuals, and stand firm in the authority and love of Christ as we navigate these challenging times.
Don't be afraid to speak up, stand firm in the truth, and renew your mind daily. God is with you, and His word is powerful. Let's be a generation that truly makes a difference by aligning our thoughts with His truth!
Remember, the Kingdom Women Entrepreneurs Podcast is here to support and empower you on your entrepreneurial journey. Together, let's make a difference in our businesses, communities, and the world.
Wishing you a renewed mind and abundant blessings,
Connect with Fideliz Cruz and Annemarie Cross: