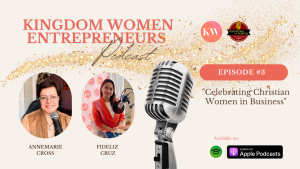 The global celebration of International Women's Day is here and whilst the focus is all about bringing attention to issues such as gender equality, violence and abuse against women, we also gather together to celebrate what it means to be a Christian Woman in Business during these times. 
Join us as we discuss current challenges that Christian Women in business face, Kingdom Identity, and being prepared for Spiritual battles and how to live in a compromised world so we can continue with our God-given calling and purpose as well as to live as a Proverbs 31 Woman. 
Let's introduce our panelists:  
❤ Fideliz Cruz – Founder of KWE Academy & Community, Award Winning Christian Life & Business Coach, Best-selling Author & Speaker. 
❤ Monica Devanand – Strengths Profile, Business & Growth Coach, Founder of the Grow Through Planner 
❤ Sherri Smith – Surface Designer, Founder of Missy Wild Flower 
And I'm Annemarie Cross – Founder of Podcasting with Purpose and Personal Brand & Podcast Strategy and Business Coach.  
Here's a sneak peek at what they discussed: 
Current challenges that Christian Women in business face

 

Kingdom Identity 

 

Preparing for spiritual battles

 

Living in a compromised world so we can continue with our God-given calling and purpose as well as to live as a Proverbs 31 Woman 

 
🎯 Key Takeaways for Entrepreneurs: 
1️⃣ Discover Your Purpose: Identify your own pain points and passions, as they play a crucial role in uncovering your purpose. By following this path, you can pursue your calling and make a meaningful impact in the world.
2️⃣ Share Your Story: We all have a unique voice and story to share. Believe in the power of sharing insights, stories, and journeys, so you can encourage others to do the same. It's through real-life testimonials that we can make a lasting impact and inspire others to embrace their God-given talents.
3️⃣ Strengthen Your Connection: Connection is key, both with others and with the archetypes that shape our identity. 
========================
What drives you? What are you passionate about? Take a moment to consider the intersection of your passions and your values. That's where your purpose lies, waiting to be unlocked and shared with the world.
We encourage you to share your journey, insights, and stories. Let's inspire and empower each other by amplifying our unique voices. Together, we can create a ripple effect that resonates far and wide, impacting a billion lives!
And remember, it's not just about being heard. It's about listening to others' stories too. True power lies in real-life testament—experiences that have been lived, shared, and transformed. Let's keep our ears open and our hearts ready to listen and learn from one another.
As Christian entrepreneurs, we have a responsibility. We are called to be a positive influence in the world, shining our light in the areas we are gifted in. Our personal stories hold power through testimony, drawing others closer to Christ's message of love and hope.
Together, let's impact the world—one message, one podcast, and one courageous step at a time. I believe in the ripple effect, where one person sharing something can lead to many others hearing it. Will you join me on this journey? Let's make an impact together! 
And finally, don't forget, you are uniquely designed with gifts and talents meant to be utilized. Your journey and experiences have led you to a specific place—the place where you can use your abilities to make a difference. Remain obedient, keep taking those steps!
Thank you for joining this empowering conversation on discovering your purpose and impacting lives! Remember, there's someone out there waiting to be inspired by your truth, hope, and possibility. Together, let's shine brightly and create a better world.
Connect with Fideliz Cruz and Annemarie Cross: