Compelling Content that Converts (and positions you as a Thought Leader)
My guest today says that with all the noise in the online world and on social media, in particular, business owners have an opportunity to stand out when we create content from our core purpose (who we are and why we do it) that is designed to add value and engage. Customers want to connect before they buy from you and compelling, aligned content is a true connector.
Deb Coman is a content conversion strategist, copywriter, speaker, and an author in the International Best Seller Voices of the 21st Century. She empowers business owners to create better content and to share and repurpose it using strategy that attracts and converts more of their best customers.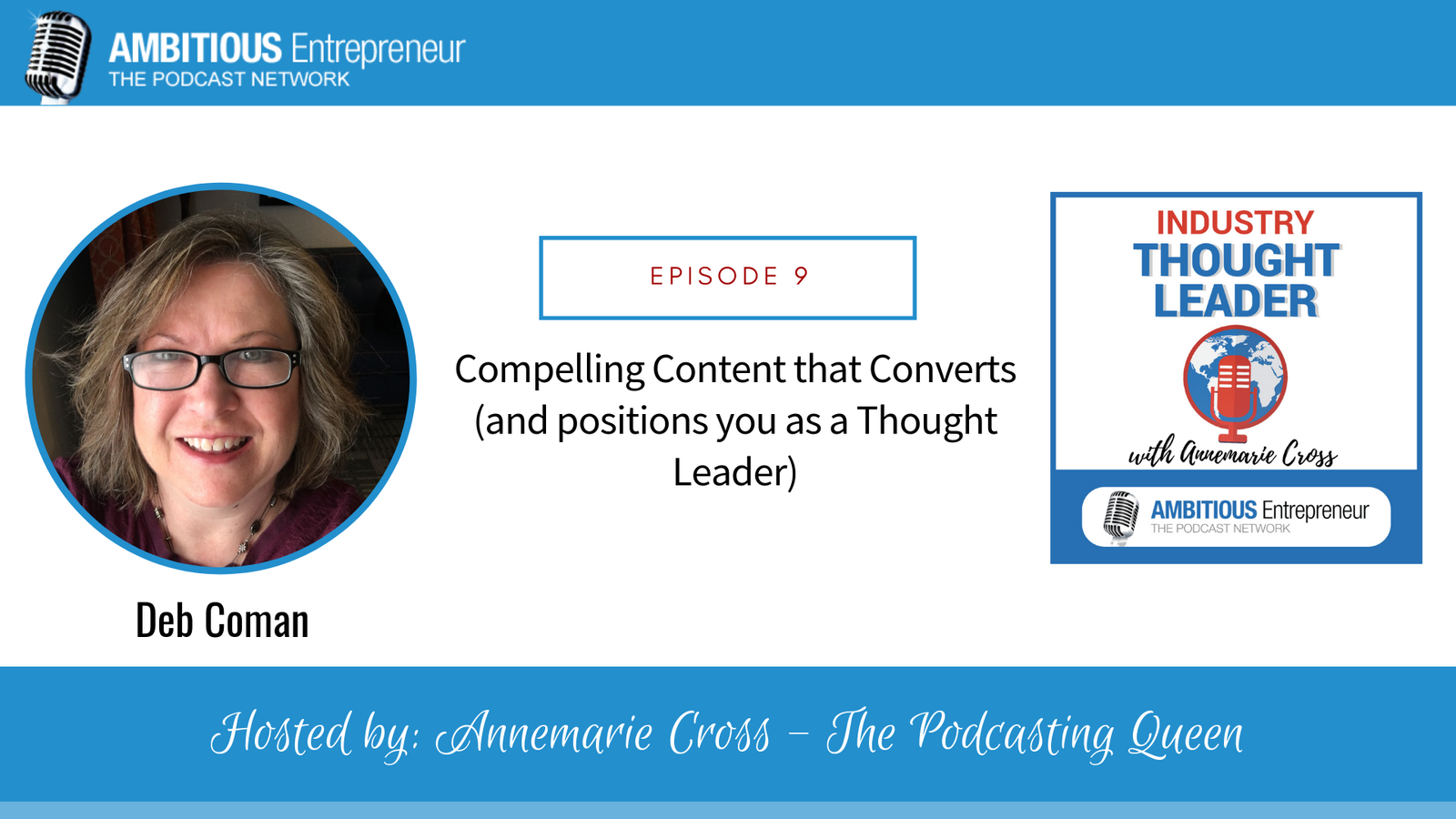 So on this week's episode Deb will share:
Why your content is not likely doing all it can to help you get (and keep) better clients.
How to avoid 3 Costly (and common!) Content Mistakes that repel your best clients.
The 3 most critical places to share new content.
LISTEN NOW: 
About Annemarie Cross:
Dubbed "The Podcasting Queen," Annemarie is recognized as an industry pioneer, launching her first co-hosted podcast in 2008 to be the voice of inspiration and hope amongst the deluge of 'doom and gloom' after the GFC devastated families worldwide.
Over a decade on, she's the author of: Industry Thought Leader: How To Go from Invisible to Influential (and Profitable) with a Podcast and continues to be the voice of inspiration to a global audience through her award-winning podcasts.
Annemarie continues to live out her mission of 'Changing the World – ONE Message at a Time', with her own podcasts, as well as by supporting Professional Services Businesses (coaches and consultants) who are experts in their field (yet feel like they're the world's best kept secret) go from Invisible to Influential (and Profitable) with their own Thought Leader Podcast.
Click here to access Annemarie's Industry Thought Leader Podcast Series to help you go from Invisible to Influential (and Profitable) with a Podcast.