Welcome!
I'm really looking forward to interviewing you as part of: The Women in Leadership Podcast.
Below, you'll find a brief overview of how the interview will be conducted, what we need from you, as well as how to get your interview booked into my calendar.
Annemarie Cross
How will your Interview be conducted?
While we are recording our audio version of the podcast, we will also stream our interview across various platforms, simultaneously. That includes two Facebook pages – my personal page and our Ambitious Entrepreneur Podcast Network page, as well as on YouTube and Linkedin.
To help us both prepare for the interview, below is our Guest Profile.
Please complete the Guest Profile and return to my Guest Coordinator. [Email below]. Once we receive your information, closer to the date of the interview, Mierra will send you the link to where we will hold our interview [I use Streamyard].
Your interview will be structured in a way that enables you to showcase your insights and information, so the questions I ask you will be centered around the key points you've provided in the Guest Profile.
____________________________________________
What you need to do:
Step 1: Complete and return our Guest Profile: Click here to download and save to your computer. Complete and return your Guest Profile, along with your picture to my Guest Coordinator – Mierra. Her email is: wilguest [at] ambitiousentrepreneurnetwork.com
Step 2: Download Sound Tips Checklist: Download and review the information so we can ensure the best possible sound quality for your interview.
Step 3: BOOK a time on our online calendar: Click here, select an appropriate date and time, and follow the instructions to secure your booking.
Step 4: PRIOR to your interview: How to get MORE VIEWS on the LIVESTREAM: Promote the Livestream Link PRIOR to the show going live to your community and database: Prior to your interview, Melissa (my guest coordinator) will email you the links to both Facebook and Linkedin – where we will be going live. You can share this with your community prior to going live to give you additional exposure during the recording. She will also send you the direct link to our private recording studio on Streamyard, which are for your eyes only.
[Here's a link to where you can find our more about Streamyard to ensure the best streaming experience for you, along with the best quality audio and video.

Then, once your show goes live later on our podcast, we would love and appreciate you sharing to your community and database. This is such a great opportunity for you to showcase your expertise to people who are already getting to know, like and trust you.
Previous Shows
Want to listen to a few previous shows? No problem.
Here's a link to the interview with Peace Mitchell about Key things you MUST focus on so you can pay yourself. Click here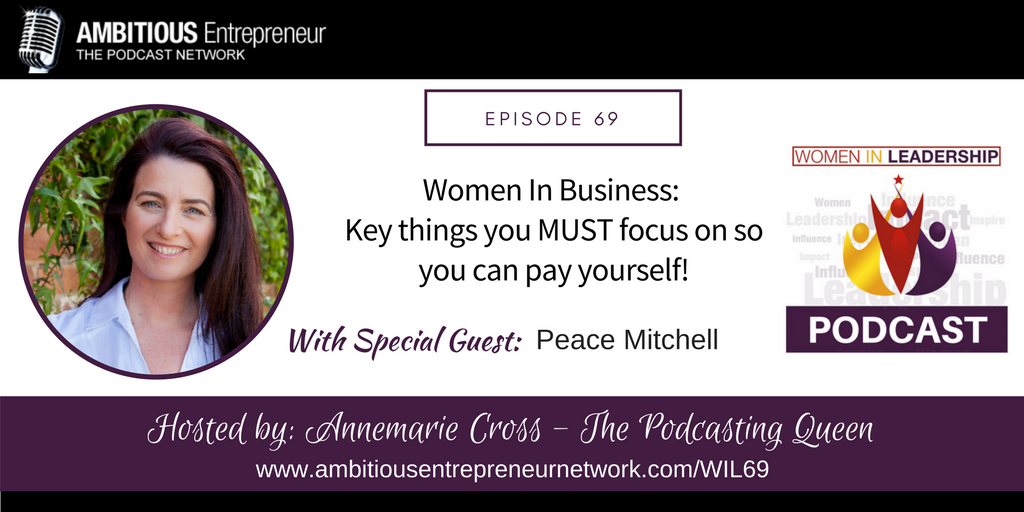 Thank you! I'm looking forward to speaking with you!  
Annemarie Cross