Welcome!
You are here because you've been invited to share your expertise on Business Women Australia Podcast, which is just one of many benefits of being a Premium member of BWA.
Below, you'll find a brief overview of how the interview will be conducted, what we need from you, as well as how to get your interview booked into the calendar.
We have also included some further details of things you can do before the interview, during the interview, and after the interview to maximise your exposure.
Our podcast is hosted by Annemarie Cross, and produced by her company – The Ambitious Entrepreneur Podcast Network, and as previously mentioned, is one of the many benefits of your BWA membership.
How will your Interview be conducted?
The interview will be conducted via Streamyard – video and audio, and streamed across five different platforms, simultaneously.
To help you (and Annemarie) prepare for the interview, please find our Guest Profile and Sound Tips checklist, below.
Your interview will be structured in a way that enables you to showcase your thought leadership, so the questions Annemarie asks you will be focused on the key points you've provided in the Guest Profile.
Please ensure your Guest Profile is completed and returned with your photo to her team (email provided in the Guest Profitwe) at least one week prior to your interview, so they can prepare for the show.
Annemarie's team will send you a link to Streamyard recording studio, closer to the date of your interview.
____________________________________________
Next Steps: here's what you need to do now:
Complete and return the Guest Profile and picture: Click to download and save to your computer. Complete and return your Guest Profile, along with your picture to my Guest Coordinator. Her email is: bwaguest [at] ambitiousentrepreneurnetwork [dot] com
Read the Sound Tips Checklist: Download and review the information so we can ensure the best possible sound quality for your interview.
Click Here to watch a short video (created by the founders of Streamyard) with some tips on setting yourself up for success with regards to the Internet, lighting, and audio, etc.
Access our online calendar and make your booking: Click here, select an appropriate date and time, and follow the instructions to secure your booking.   
Please note: Interviews are currently held on the fourth Wednesday of each month.
Maximising your exposure from your interview:
Business Women Australia and The Ambitious Entrepreneur Podcast Network's podcast and social media community combined is a global audience.
As mentioned, your interview will be livestreamed at the time of the recording and later published on the audio podcast.
This means there's opportunity for an ever growing audience to find and consume your interview.
BWA and AEPN would highly recommend you also consider leveraging this publicity across your own communications platform, so that any potential clients (or stakeholders) can listen/watch the content – either live or the recorded version.
That will always give you the best ROI. Especially if you have a strong call to action, which gets people off the podcast and onto your list and nurturing/relationship-building funnel.
Here are some additional things you can be doing to optimise exposure:
Prior to your interview:

Annemarie's assistant will send you the scheduled interview link to where we will be going live on Facebook, which will be on The Ambitious Entrepreneurs Podcast Network Page).

Once you receive the scheduled interview link you can re-share this within your Facebook Page and any Facebook Groups you have, inviting people to watch and ask questions live during the show.

Do you have an email list/newsletter? Send out notification along with the link (to the Livestream), time and date for when your interview and invite people to join live. Ask your community what questions they have about the topic you'll be speaking about, so you can address this during the interview.
Do you have other social network platforms? Create a post and let them know of your upcoming interview. This is a great way to begin engaging with your community.

During your interview:

Have your team watch the livestream and add their comments during the conversation. This will prompt further reach of your show.
If you haven't already, share the interview across your Facebook Page and Facebook Groups.

After the interview: 

If you haven't already, share the interview across your Facebook Page and Facebook Groups.
Create a blog post, write a short blurb about what the show is about, and embed the video.
Add the interview to your Media Page on your website.
Share the interview across your other social media platforms.
Add a blurb and the link to the interview in your newsletter.
Do you have a prospective customer you have been 'wooing'? Send them the link to the interview and let them know you discussed some of the key areas they were seeking help with.
Those are just a few different ways you can leverage your interview.
On behalf of the leadership team at Business Women Australia, we look forward to showcasing your thought leadership soon on the podcast.
Previous Shows:
Click here to watch a livestream interview with Lyn Hawkins.
Or Click here for a previous show on Strategic Growth and Business Development Initiatives.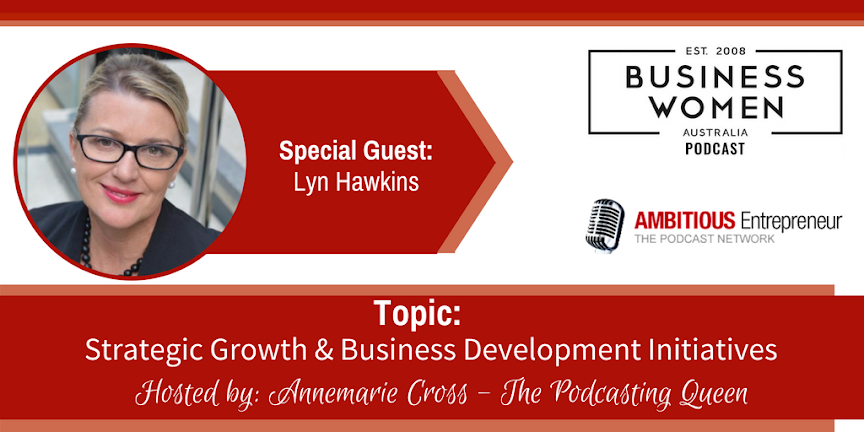 Here's a link to the interview with Dr. Clare Allen. Click here