Success is not a secret, it is following a system
Joining me on today's show is Fiona Yue.
Fiona is the Director of PGY Consultants, an accredited consultant with The Proctor Gallagher Institute that was established by the legendary Bob Proctor and Sandy Gallagher. Fiona originated from Northern China and came to Australia via Edith Cowan University over two decades ago.  She holds an MBA, is the Managing Director of Merino & Co, the largest merino wool products and luxury knitwear manufacturer in Australia, and enjoys  investing in many areas.
Having run multiple businesses, Fiona felt she never knew why she succeeded outrageously in some and failed miserably in others until undertaking the Proctor Gallagher program. She says "Success is not a secret. It is in fact a system. For all my successes I have been following the system unconsciously and for all those failures I have been working against the system.  Now with this system, I have transformed my results in every area of my life and it's my mission and passion to help others do the same."
On today's show, Fiona will share:
No matter where you start, you can get to live your dream life if you dare to dream and persist
To live a truly fulfilled life, you need to extend out and help more people live a better life, tie purpose with your business
Success is not a secret, it is following a system
Listen now:
Podcast (business-women-australia-podcast): Play in new window | Download (Duration: 39:43 — 36.4MB) | Embed
Subscribe: Apple Podcasts | Google Podcasts | Spotify | Android | Email | RSS
About Fiona: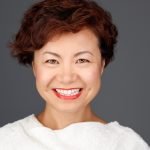 Fiona is the Director of PGY Consultants, an accredited consultant with The Proctor Gallagher Institute that was established by the legendary Bob Proctor and Sandy Gallagher. Fiona originated from Northern China and came to Australia via Edith Cowan University over two decades ago.  She holds an MBA, is the Managing Director of Merino & Co, the largest merino wool products and luxury knitwear manufacturer in Australia, and enjoys  investing in many areas.  Having run multiple businesses, Fiona felt she never knew why she succeeded outrageously in some and failed miserably in others until undertaking the Proctor Gallagher program. She says "Success is not a secret. It is in fact a system. For all my successes I have been following the system unconsciously and for all those failures I have been working against the system.  Now with this system, I have transformed my results in every area of my life and it's my mission and passion to help others do the same."
Contact Fiona:
Connect with Business Women Australia: